VMware Promo : Free Training
March 17, 2016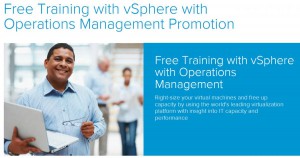 Purchase vSphere with Operations Management Enterprise or Enterprise Plus Acceleration Kits before September 15, 2014 and receive free training worth $3,495!
VMware vSphere with Operations Management enables users to get the most out of the virtualization platform by reclaiming unused capacity, rightsizing virtual machines, improving utilization and increasing consolidation ratios. The patented, self-learning analytics enable a much higher degree of automation than traditional management tools, improving capacity utilization by 40% and consolidation ratios by 37%.
Get started today with an Acceleration Kit and receive the following self-paced training absolutely free:
Self-Paced VMware vSphere Install Configure and Manage
Self-Paced VMware vCenter Operations Manager Fundamentals
Self-Paced VMware vSphere Data Protection Advanced Fundamentals
Promotion Rules:
This promotion is valid from February 1, 2014 to September 15, 2014 at 11:59PM Pacific Standard Time (PST).
Read the Terms and Conditions.
See more at:  http://www.vmware.com/promotions/2014-vsphere-operations-management-promo.html
VMware vCenter Log Insight
March 17, 2016
VMware® vCenter™ Log Insight™ delivers automated log management through aggregation, analytics and search, providing operational intelligence and enterprise-wide visibility in dynamic hybrid cloud environments.
Connect to Everything
vCenter Log Insight collects and analyzes all types of machine-generated log data (such as application logs, network traces, configuration files, messages, performance data and system state dumps). It enables administrators to connect it to everything in their environment—operating systems, applications, storage, firewalls, network devices or something else—for enterprise-wide visibility.
Powerful Log Analytics
vCenter Log Insight provides faster analytical queries and aggregation than traditional tools, especially on larger data sets. It identifies key-value pairs and adds structure to all types of unstructured log data, enabling administrators to troubleshoot quickly, without needing to know the data beforehand.
It delivers real-time monitoring, search and analytics, coupled with a dashboard for stored queries, reports and alerts. These features enable IT to derive meaningful insights from terabytes of log data and correlate events across multiple tiers of a hybrid cloud environment in a single location, cutting down troubleshooting times, improving operational efficiency and reducing IT costs. vCenter Log Insight also provides a single location to collect, store and analyze logs at scale.
Ease of Use
Since it is made available as a virtual appliance, vCenter Log Insight is easy to deploy. Its intuitive, GUI-based interface makes it easy to run simple interactive searches, as well as deep analytical queries for quick insights, providing immediate value and improved IT operational efficiency. There is no need to learn a new query language to get started. To make things even simpler, vCenter Log Insight automatically chooses the best visualization for your data, saving you valuable time.
Built-in vSphere Knowledge
Developed by VMware experts, vCenter Log Insight comes with built-in knowledge and native support for VMware vSphere® with Operations Management™. It is the solution best suited for your VMware environment. With vCenter Log Insight you can analyze logs beyond your virtual infrastructure and use a central log management solution to analyze data from your entire IT environment, including your physical infrastructure, operating systems, applications, network and storage devices.
Integration with vCenter Operations
Integration of vCenter Log Insight with the vCenter Operations platform extends operational visibility and proactive management capabilities across infrastructure and applications in a dynamic, hybrid cloud environment. Integration also helps you maximize ROI and value by bringing unstructured data (such as log files) together with structured data (such as metrics and key performance indicators), offering a significantly enhanced solution for end-to-end operations management.
Simple and Predictable Pricing Model
vCenter Log Insight has a simple, flat pricing model that includes unlimited amounts of data with the license. Unlike other solutions, it does not penalize you if your devices start generating more log data; you do not have to purchase licenses based on peak log volumes and worst-case scenarios.